What Makes Weddington, NC, a Best Charlotte Suburb?
by Charlotte Real Estate Agent Danielle Edwards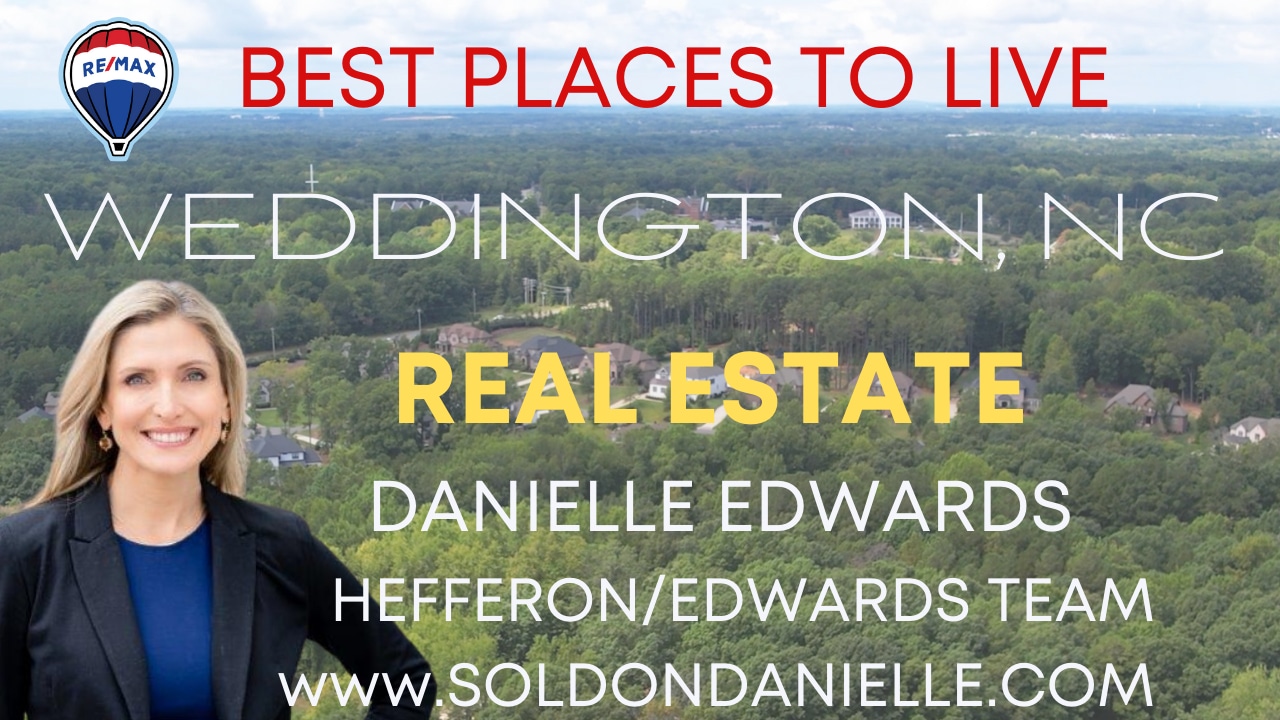 Welcome to Weddington, NC!
If you're reading this post, it's maybe because you've heard about how great Weddington, NC, is. What used to be a small, quaint North Carolina town is booming into a bustling Charlotte suburb. If you are looking to move to the Charlotte, NC, area, Weddington is a magnet for people and families wanting wide open spaces, newer homes, community amenities, and, of course, more bang for your buck!
I recently moved several families to this sparkling suburb via Facetime or in person – from all over the United States. Their main focus was a safe place to raise their family and top schools. But, let's not forget the beautiful parks, access to sports fields, hockey, gymnastics–you name it— it is here — tucked away behind soaring pine trees.
YOUTUBE VIDEO BELOW ALL ABOUT WEDDINGTON and HIGHLIGHT on THE ESTATES AT ATHERTON.
Where is Weddington located compared to Charlotte, NC?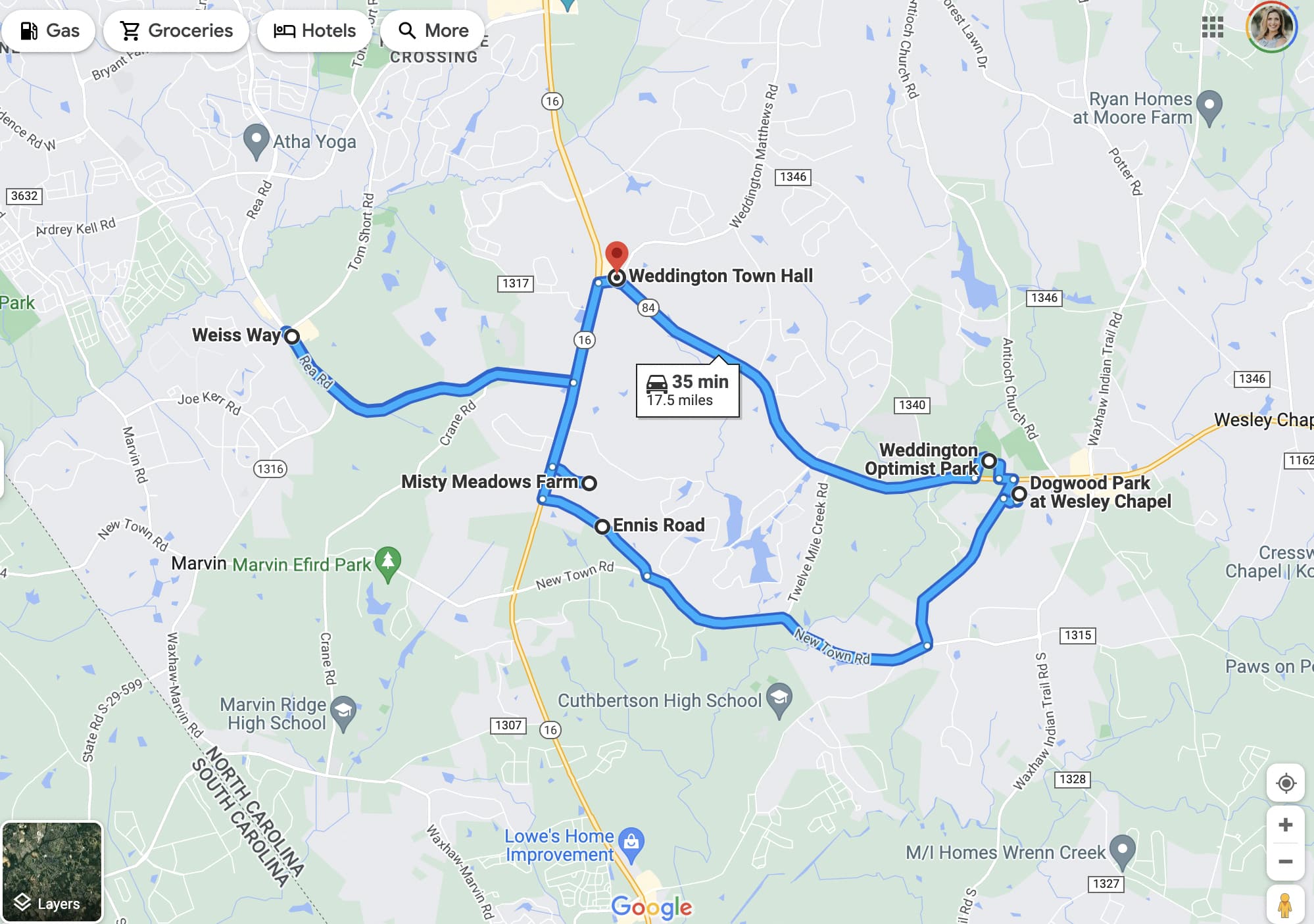 Weddington is 2-3 miles from I-485,  making this location attractive to hybrid and remote workers. But even if you commute daily, it is doable — about 35-40 minutes to uptown. Some roads are 2-lane country roads, which during rush hour, can have a slower pace after a long day. The further you live from the Charlotte city center, you get "more bang for your buck." Just realize it might take you longer to get home, which costs time, gas, and wear and tear on your car. The taxes are slightly cheaper in Weddington, but if you are a commuter, you make up for that the further out you buy.
It comes down to what is important to you! I tell clients to think about how they live now. What is important to you? Since I have lived in many areas throughout Charlotte and the US, I usually can give examples to my clients on what they can expect relative to their lifestyle.
Check out my Weddington Chase Driving Tour!
Top Things to Do near Weddington, NC?
Hunter Farms offers seasonal educational farm tours during the Spring, Fall, and Winter seasons. Kids can discover the sights and sounds of a working farm. You can rent a garden plot to grow your food or an outdoor venue for special events, such as parties, receptions, and reunions.
Charlotte Helicopters offers aerial sightseeing tours in many areas in and around Charlotte. Make memories with your friends and family by taking an aerial tour of Uptown Charlotte, Speedway, Lake Wylie, and Lake Norman. Custom tours of your choosing are also available.
Waverly hosts Weddington's finest shopping, restaurants, homes, and office space, all located off I-485 near Ballantyne, Blakeney, Matthews & Waxhaw. A walkable community with the urban energy you're looking for and the convenient South Charlotte location you desire. Stylish living options abound, just steps from the office. Designed to bring people together, Waverly is the perfect place to meet friends for coffee or a cocktail. Sample a variety of cuisines from the many dining hot spots on The Terrace. Park once and take care of your entire to-do list – whether buying organic groceries at Whole Foods, working out, picking up that perfect new outfit, or going to the dentist. Everything you need is right here.
Six Mile Creek Greenway has a beautiful 1.8-mile out-and-back trail. Generally considered an easy route, it takes an average of 31 min to complete. This greenway is a popular trail for road biking, running, and walking, but you can still enjoy some solitude during quieter times of the day. The trail is open year-round and is beautiful to visit anytime. Dogs are welcome and may be off-leash in some areas.
Downtown Waxhaw is home to thriving arts, cultural and dining scenes, less than 15 minutes from Weddington. Enjoy arts and history museums, parks, trails, antiquing, and breweries!
Please let me know if you would like more information on living here or in other communities like this in the Charlotte area.
For more of Charlotte's top neighborhood driving tours, check out my various playlists on our YOUTUBE Channel.
Hefferon | Edwards Team
704-703-4574
team@hefferonedwardsnc.com