SELLER HOME CHECKLIST
What YOU should do before selling your home!
Clear access to crawl space, water heater, garage walls & HVAC systems
Make sure your splash blocks are in tack and water is draining away from the house.
Gutters are cleaned
Check wood trim for softness and caulk
Steps check for loose bricks
Handrails – check for any loose ones
Deck- rotted boards
Crawl space- check for mold on floor joists, fallen insulation, standing water.
Hose bibs are not loose are leaking
Retaining wall- is it cracking? leaning?
GARAGE
Garage door functioning and auto reverse works
Garage wall free of termite tubes
Any holes in the walls that would affect fire rating?
INTERIOR
Check all windows for opening and closing
Do the windows stay up on their own?
Broken seals or foggy windows?
Outlets working
Missing doorstops
Ceiling fans work
Consider getting carpet cleaned or stretched
KITCHEN AND BATHROOMS
Fill all sink basins, drain, check for leaks
Check disposal and dishwasher
Check all burners and elements work on stove
Check counter and splash block for caulking
Check for loose tiles
Check toilet for cracks and movement
Check toilet shut off/on valve to make sure not rusted and causes leaks
Make sure hot water is on the left and cold is on the right
Check laundry connection for leaks
Check water heater for leaks
Check for tripped and missing breakers
VIDEO ON MY TOP THREE PET PEEVES WHEN SELLING YOUR HOME

—
Granted you do not have to FIX all these things.  But, it gives you a head start.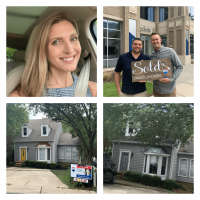 Before and After photo of a recent listing. WOWZA!
The top items I see on inspection reports are crawl space issues with water intrusion, termites, wood rot, and retaining wall issues.
Good luck in selling your home!  If you have any questions feel free to call me…
yes, I will really answer my phone!
704-604-2999