MEET CHARLOTTE REAL ESTATE AGENT, Danielle Edwards.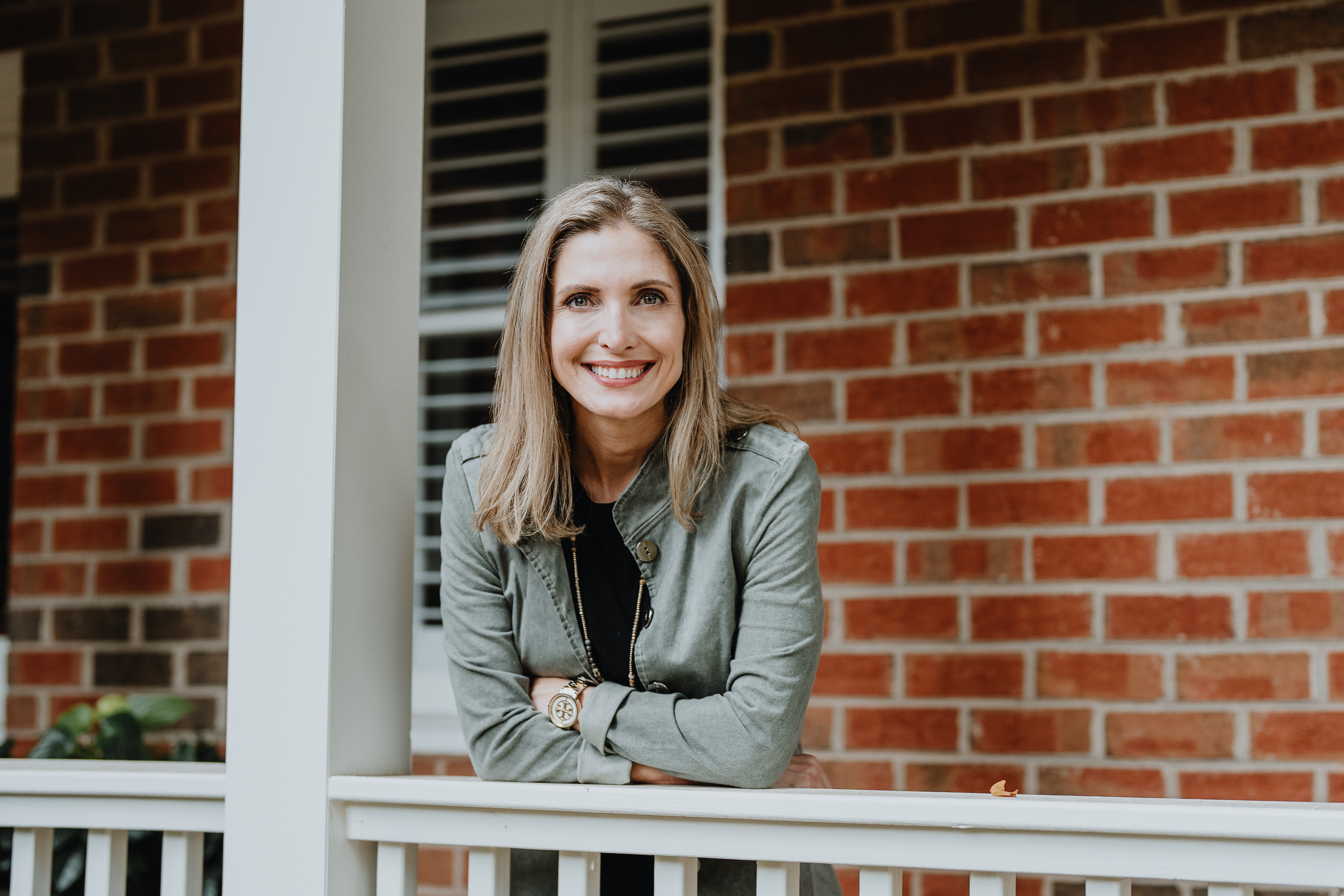 A Note from Danielle:
Choosing someone to represent you to buy or sell your home is an important decision.
Since 2006, I have seen the Charlotte area grow like never before.  This once mid-sized, quaint town has exploded with more businesses, communities, restaurants, entertainment and opportunities than one can imagine.  Personally, I have lived in many of the different areas of Charlotte so it is easy for me to discern which areas of Charlotte might be a great fit for their personal lifestyle. Also, having lived in Florida, California, and New York, I understand the amenities and lifestyle clients are used to and can help my relocating families transition into the Charlotte community smoothly with fewer surprises and more delights.
Over the years, video has taken over the real estate industry and I have found my telecommunications background come full circle. I use top notch video production to present my listings on all social media channels giving my sellers the full advantage and peace of mind knowing their home is being marketed to the fullest extent.
When the market was HOT these past few years, many agents stopped doing the marketing and the hard work.  However, I kept doing what I would normally do because I feel a seller deserves every ounce of marketing they are paying for when they hire me to sell their home.  Whether a home needs staging, repairs before selling, or gentle guidance on which path is the right one, I pride myself in meeting my clients where they are so they can sell on their terms.
I am proud to say 95% of my business is word of mouth and repeat clients.
Choosing a Charlotte Real Estate Agent is an important decision for one of the biggest investments you have.  I am proud to say 95% of my business is word of mouth and repeat clients.  However, if you don't know me yet and are reading this to decide if I am the right fit for you.. then WELCOME!  I would be honored to have the opportunity to show you how I feel I am different and why my clients consider me not just their trust real estate advisor, but a new friend in the process
2022 Elevate Magazine Favorite Female Real Estate Agent Charlotte
Don't Just Take My Word for It!
If you are like me, you value recommendations and prefer reading reviews.  Lucky for you I have a video from proud clients, as well as glowing Google Reviews. 
Danielle Edwards Real Estate BIO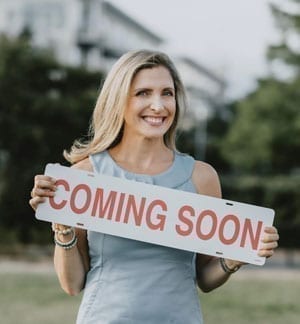 Danielle Edwards is committed to providing an unprecedented depth of real estate expertise.  This ensures her clients successfully achieve their personal real estate goals. As an accomplished broker since 2006, Danielle (aka Driven Danielle) is highly skilled in the Acquisition and Marketing of Residential, New Construction, and Distinctive Luxury Properties. She truly loves all that Charlotte has to offer. It is her joy to share her intimate knowledge of its distinctive and charming communities. Through her passion and unlimited energy, Danielle clearly distinguishes herself with proven results while creating a fully engaging, fun, and truly impressive real estate experience.
Danielle's clients enjoy her genuine thoughtfulness and find that her warm and heartfelt care is very present in everything she does on their behalf.
She excels at educating and advising her clients with an informed and insightful assessment of the current real estate market and is extremely diligent in seeing that their needs are thoroughly attended to. Whether it's establishing a marketing plan, showings for a property, or a review of the technical points of the transaction, she takes every measure to accurately address each critical issue and provide her clients with the expertise that meets their specific requirements. Indulging her clients with first-class service,
Driven Danielle readily delivers results that are beyond their expectations and is truly dedicated to providing her clients with exceptional guidance and professional representation in helping them reach their real estate goals.
Residing in South Charlotte with her husband Tim, their children, and their rescue dog Gator; Danielle cherishes spending time with her family, walking the greenway with Gator, going to Atha Yoga, and cheering on the Florida Gators!
Danielle further distinguishes herself with the following designations/awards:
Licensed North Carolina & South Carolina Real Estate Broker
CANOPY Board of Realtors Leadership Academy Class of 2023-24
CANOPY MLS Communications Board Member 2020,2021,2022,2023
Member of Carolina Multiple Listing Service
Member of Hall of Fame RE/MAX Executive 2020
Member of Platinum Club RE/MAX Executive 2019,2020,2021
Member of Chariman Club RE/MAX Executive 2022
Diamond Team Award 2019-2022
Olde Providence Elementary Daddy- Daughter Dance Chair
Elevate Magazine " Best of the Best" Favorite Female Charlotte Real Estate Agent
Member of the 100% Club RE/MAX Executive 2018, 2017, 2016, 2015
BS in Telecommunications, Outside Concentration: Business Management – University of Florida
AA in General Education – University of Miami
RE/MAX Global Marketing Award Winner 2015
RE/MAX Rookie of the Year Realtor 2006-2007
1996 Community Hero Olympic Torch Bearer Atlanta Olympics
Keep Charlotte Beautiful Street sponsorship program and adoption
2023 Miracle Agent from Children's Miracle Network Hospital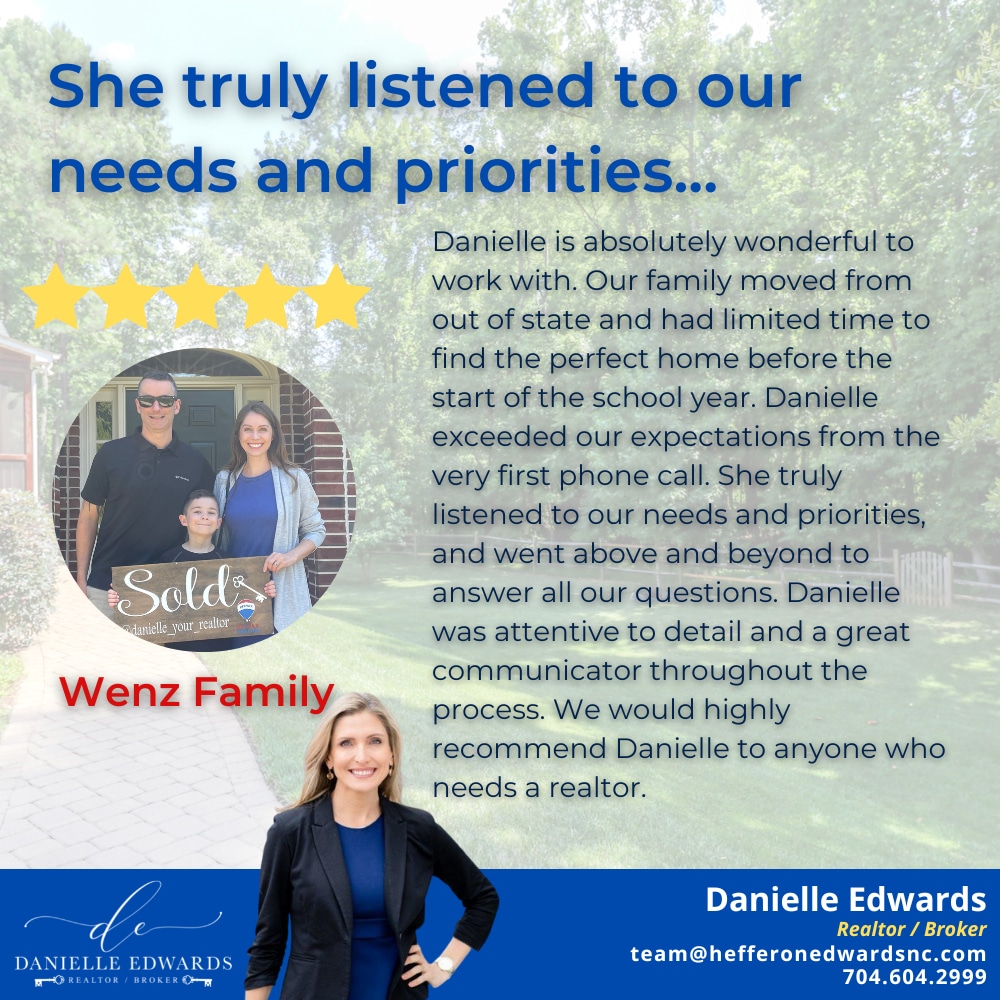 Danielle proudly makes a donation to these Charlotte charities throughout the year from each transaction.
Here are some of the charities Danielle supports throughout the year.  Giving back to our Charlotte community is at the forefront of what I do.
Charlotte Humane Society, Charlotte, NC
Levine Children's Hospital-  I am a "Miracle Agent," which means I have donated over $500 annually.
Classroom Central in Charlotte, NC
At my annual client appreciation event, I collect canned goods for Second Harvest Food Bank.  This year we collected over 177 lbs of food for families here in Charlotte, NC.
Head group leader for Operation Christmas Child headquarters here in Charlotte, NC.  Together with clients & friends, we coordinate and organize the boxes at the warehouse in Charlotte before they are shipped out across the globe.
Give CHARLOTTE-  Volunteer packaging almost 2000 meal boxes for local families for Thanksgiving.
Proud supporter and PTA Secretary of Olde Providence Elementary here in Charlotte, NC
Proud supporter of the Charlotte Arts
RPAC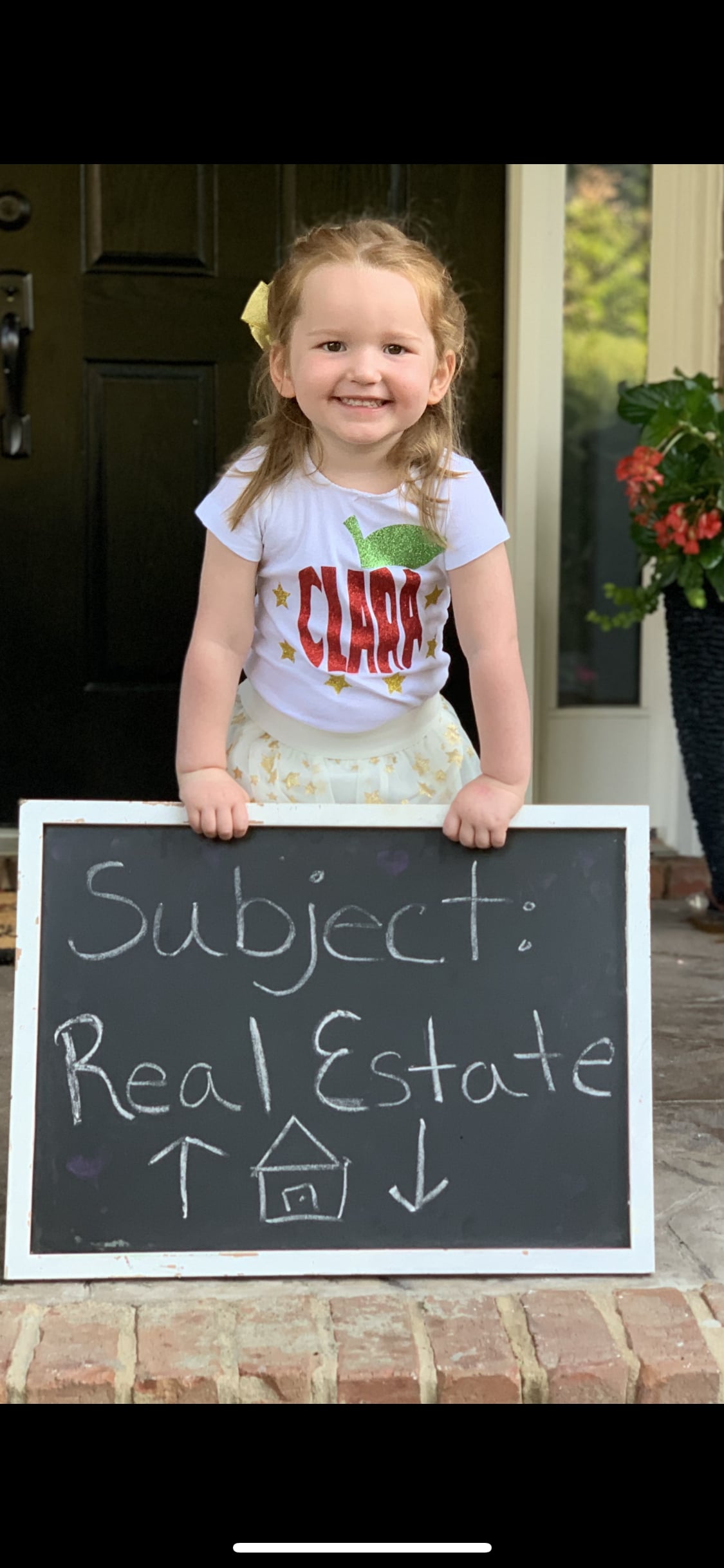 Contact Danielle Edwards to serve you and your personal real estate interest in the Charlotte, NC region.
/team@hefferonedwardsnc.com
Realtor Danielle Edwards Supports Children and the Arts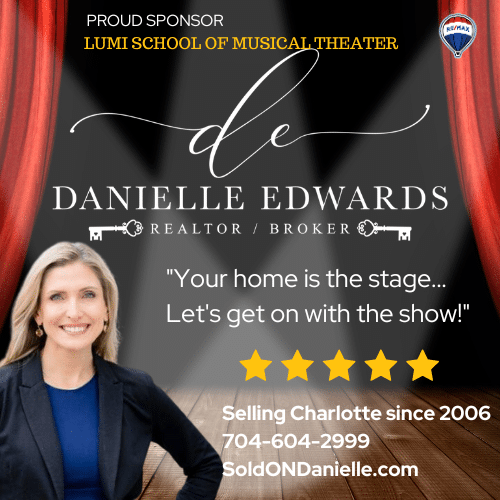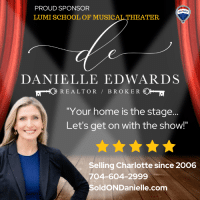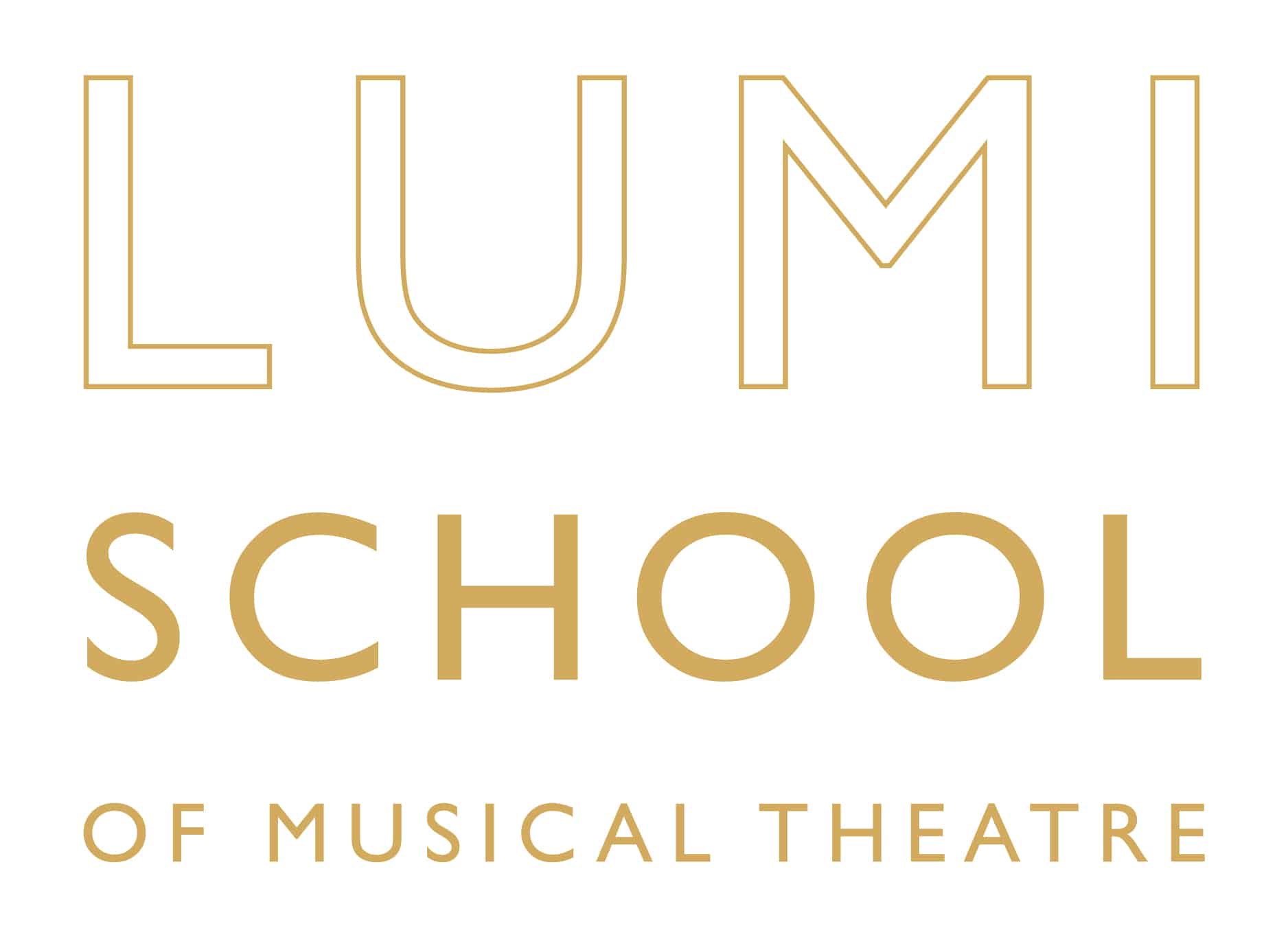 Proud to support the new musical theatre school in the Charlotte area.  My daughter has loved going here to express herself and learn all about the world of theatre.  If you are looking for a positive place to send your child, whether you want to build confidence or become an Actor, I can't say enough good things about LUMI.  I am so grateful she has opened her doors!
REALTOR / REAL ESTATE AGENT Designations and Awards
| | |
| --- | --- |
| | Member of the Institute for Luxury Home Marketing |
| | ABR, Accredited Buyer Representative Certified |
| | Strategic Pricing Specialist Certified |
| | RE/MAX Hall of Fame 2020 |
| | RE/MAX Chairman Club 2022 |
| | RE/MAX Diamond Team Club 2022 |
| | RE/MAX Platinum 2019,2020,2021,2022 |
| | RE/MAX 100% 2015 -2018 |
| | 5 Star Agent Award |
| | Real Estate Negotiation Expert |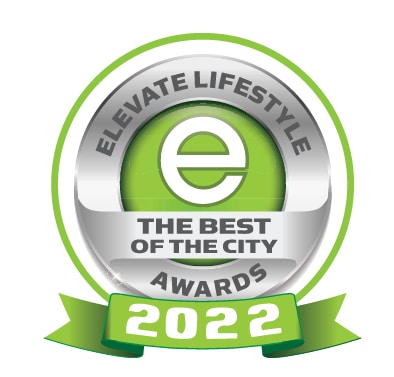 Proud to announce I have achieved this award. Two will have the years won listed out, two will show you the number of years won, and two will have the current award year.