SOLD Renovated home with basement in Stonehaven!
The sellers and myself worked hard to prep 6016 Bismark Place for the market. As a result, this renovated home with basement in Stonehaven SOLD for $495,000, 1 day on the market with almost multiple offers. Please contact me if you would like to sell your home next! Because the owners spent over $200,000 making this house a home for its next owners, it sold in the blink of an eye. In this blog post, i'm going to list the factors that made this sell successful!
6016 Bismark Place, Charlotte NC 28211-4317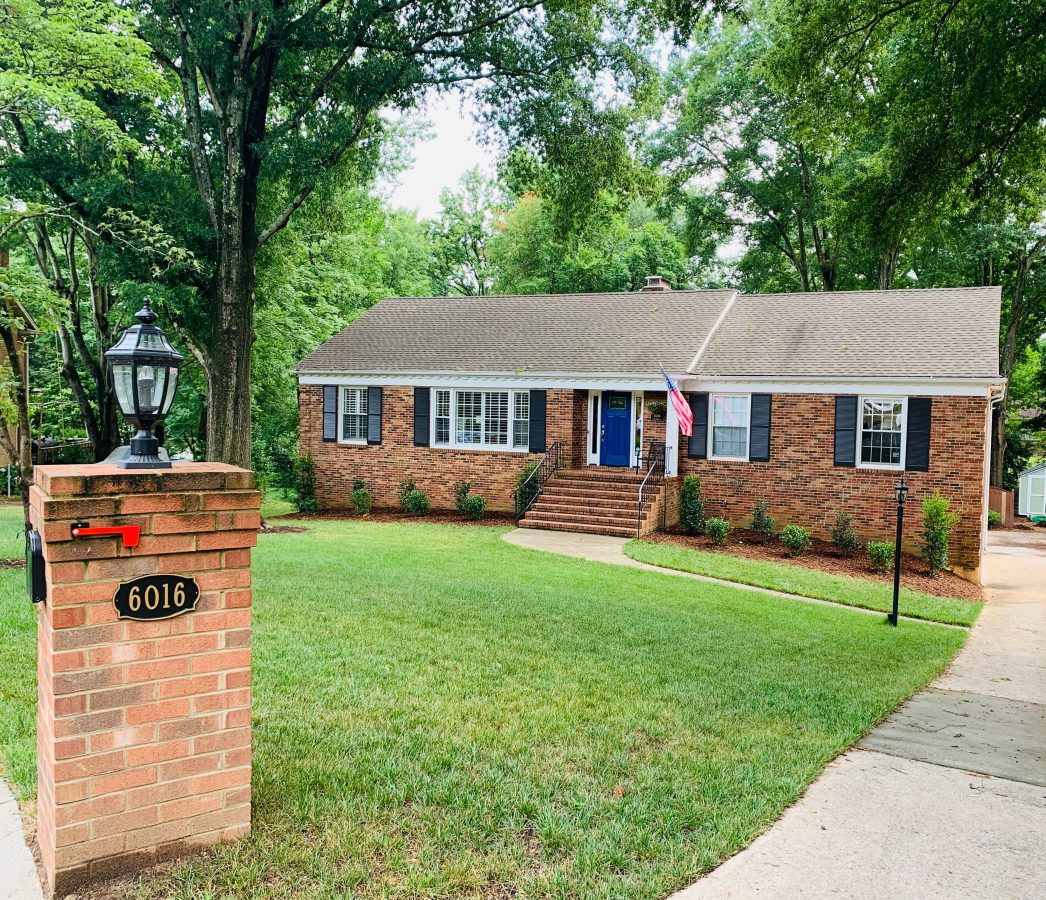 Newly Renovated Home With Basement
First of all, this home was newly renovated home with a basement, in a highly sought-after neighborhood, Stonehaven. Moreover, the beautiful fenced-in back yard and back lower patio with back upper-deck made this home even more attractive to buyers with pets or kids. Anyone who loves hosting in an outdoor space was sure to see the value in this backyard set-up. Lastly, the neighborhood amenities near this home made it impossible to overlook. For example, the neighborhood has multiple swim clubs, parks, seasonal festivals and more were just more icing on the cake. Keep reading for even more information on how we were able to sell this home so quickly.
MLS# 3516044
Listing Price: $499,000
Beds and baths: 4 bedrooms, 3 bathrooms
Address: 6016 Bismark Place, Charlotte NC 28211
Square Footage: 2,819 (1046 basement level, 1,773 upper level)
Year Built: 1969
Newly Renovated
No expense was spared in the renovation of this forever home! Because the previous owners spent over $220,000 upgrading this house, it was far from just an aesthetic makeover. Designed by experts, the layout and design of the home (carried out by Timberline Homes) was completely overhauled and reimagined. For instance, the layout was originally outdated, so walls came down to create an open concept living space, staircases were rebuilt and rooms were added to create a modern touch that makes this home live up to today's standards.
Home Exterior
The yard originally had drainage issues, therefore, it was raised to become a usable flat with no issues whatsoever, which made this the perfect house for outdoor entertaining. Lower basement level extends onto outdoor patio, which has added surround sound. Lastly, the sellers added gutter guards and a water line in the garage for a fridge, if desired.
Home Interior
These days laundry rooms are a huge selling point, therefore, the laundry and utility room werecompletely reconfigured and were sure to impress. In addition, this home's sellers added plantation shutters, soft-close drawers and 5 Star top-of-the-line appliances. Moreover, they added solid-core doors, a telescope TV mount, custom mantle to hide cords, arched entires, USB outlets, hidden storage, wainscotting, and custom built-ins shelves. In other words, there's nothing that these sellers didn't think of to make this house feel like a home, therefore, it sold quick!
Because of all the kitchen upgrades, potential buyers could walk in and see themselves living in this dream kitchen. For example, they added quartz countertops, marble backsplash, a giant island that's perfect for gathering and entertaining, high-end cabinets and soft-closed drawers. As a result, each potential buyer saw the kitchen as a huge value add.
In addition to the laundry, kitchen, and layout upgrades, there are so many extra perks when it comes to this home. For instance, the stand-alone fireplace is hand-painted and full of character, with added gas inserts. In addition, you can turn the nursery into an office, studio or 5th bedroom if needed. As a result, the pros to buying this home far outweighed any potential cons.
Photos
About the area
Stonehaven is just a stone's throw away from some of Charlotte's hottest neighborhoods such as Southpark, Foxcroft, and Meyers Park, as a result of its prime location, it's a highly sought after area. In addition to its location, it's also a beautiful neighborhood. For example, Stonehaven is an established suburban community built in the 1950's. Second, it's home to brick ranch style houses and winding tree-lined streets.
Lastly, although the neighborhood of Stonehaven is just a few miles from Uptown Charlotte, it's full of suburban southern charm. For example, you'll get to enjoy a 4th of July parade in the summer, weekly social events, and a fall festival! The neighborhood is home to 2 swim & racquet clubs, as well as multiple parks and greenways. You'll be just five quick minutes away from Cotswold Shopping Center, and less than ten minutes from Southpark Mall. In conclusion, because of the community charm, great location, and beautiful neighborhood, the community was a huge selling point for this home!
CMS Public School Zone
Rama Road Elementary
McClintock Middle
East Mecklenburg High
Nearby Private Schools
Country Day
Charlotte Christian
Charlotte Preparatory School
____________________________________

For more information please contact Danielle Edwards.
Danielle Edwards
Certified Luxury Home Marketing Specialist
Remax Executive
704-604-2999