HOW I RAISED OVER $107,000 FOR CHARITY BY MYSELF
MY DANCING WITH THE STARS JOURNEY
PRESENTED BY DANIELLE EDWARDS
Raising funds for charity is a noble cause and a way to impact the world positively. Whether you are an individual, a group, or an organization, there are several effective ways to raise funds for charity. In this article, I will discuss some of my most effective ways, which helped me raise over $107,000 for the Charlotte Ballet and the Canopy Housing Foundation.
VISIT CHARLOTTE BALLET WEBSITE: https://charlotteballet.org/ 
or Charlotte Gala:  https://charlotteballet.org/2023/03/10/the-2023-dancing-with-the-stars-of-charlotte-gala/
VISIT CANOPY HOUSING FOUNDATION WEBSITE:https://www.canopyhousingfoundation.org/
"I recently was honored to do dancing with stars here in Charlotte, which is a charitable gala where pretty much you're responsible for raising a ton of money and all proceeds. In my case, for split 50/50 between the Charlotte Ballet and my charity of choice, Canopy Housing Foundation. What I did not have going for me is I was not a corporate executive, like my fellow competitors that have big companies like big name banks you would think of. Yeah, that could write big checks."
WHO DO YOU KNOW?
Make a list of everyone you know and businesses you support. Car dealer, roofer, dentist, doctor, anyone you have given to support. Reach out to them and ask them to support you with your donation. The ones that you think have a prize that would be exciting, ask them for. Think of your friends with AIR BNBs. However, that might be in person, by email, or by text. I would send them a video on my phone.
I made a separate list of who maybe had a service. Please think of any of your friends who own Air-BNBs who would donate their rental.
Lastly, don't forget your local jewelry store, or maybe you purchase your wedding ring. For example, we have Diamonds Direct. They gave me a $900 diamond necklace that I could raffle off.
Posted below is the $900 Diamond Necklace: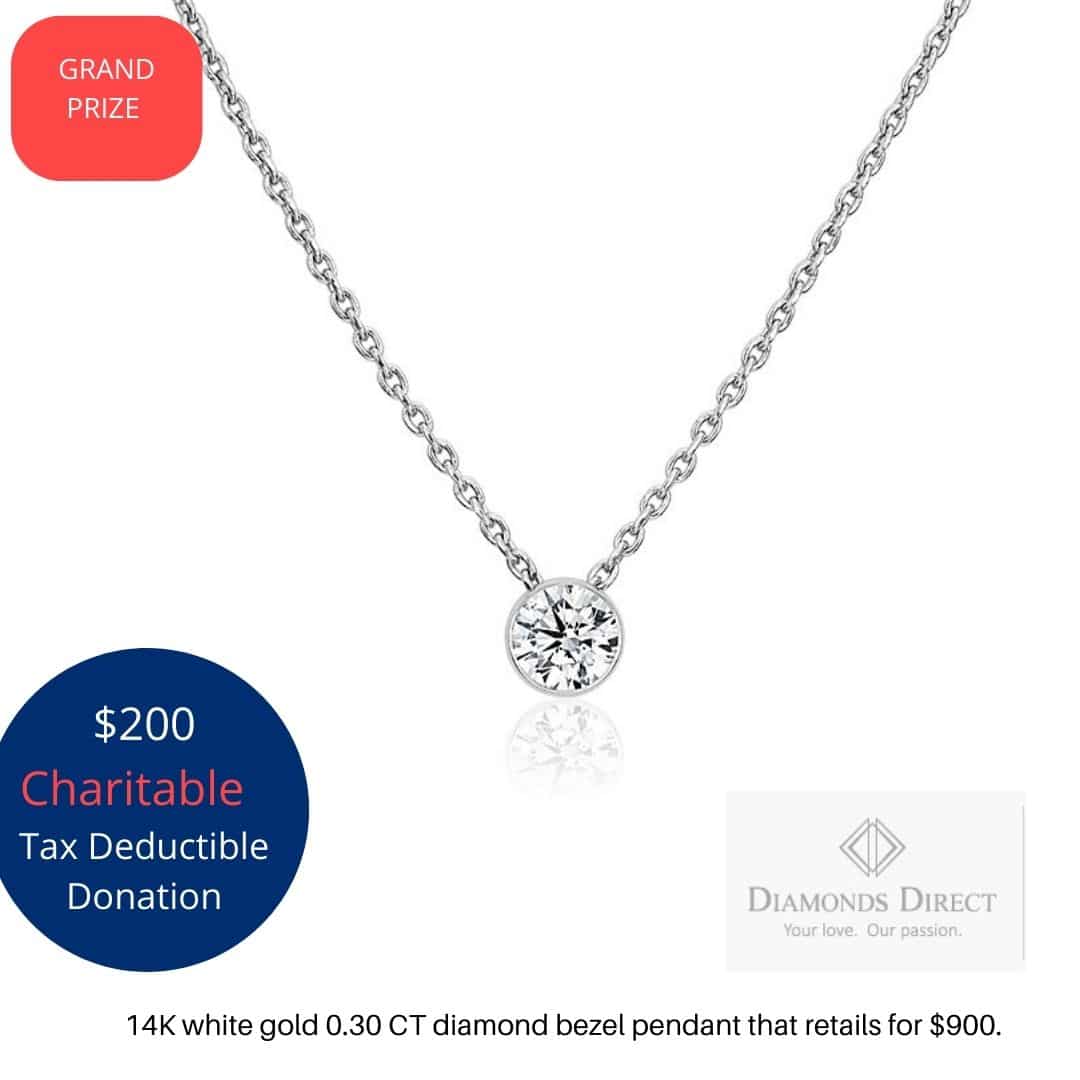 EMOTIONAL FUNDRAISING
People want to know how their donation is going to make a difference. In my situation, I was raising money for the homeless here in Charlotte,NC. For instance, $5 donation can buy lunch, $50 can provide a blanket, and so forth.  This is where I got creative.
I used pets and kids holding up little signs to open people's hearts, hoping it would open their charitable contribution to my cause.
I also created a separate page on Facebook for my journey, which is still there, Dancing with the Stars Journey, where I invited people to like and follow where I could place all my information and then any time I post anything or email, telling anyone I literally could send it there so they could watch my progress.
KENDRA SCOTT
Kendra Scott is amazing. You can apply to see if your charity is one they would accept.
Then they'll either offer you to do an in-store event where you can capture that shopping too!  They will give 20% back to your charity, and in my case, a 48-hour online option where I could promote that online. I was able to raise an additional $954 doing this. Not to mention I added to my Kendra Scott collection.
This is the event flyer we launched: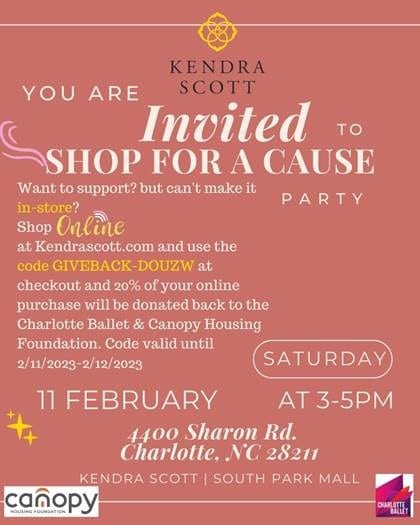 ONLINE AUCTION
I did the raffle. I found it easier because my specific gala did not have an easy way to do a silent auction where I can have individual sheets of paper out.  And honestly, it was analysis paralysis, and I was getting a little overwhelmed, so I did a raffle!
So I divided the pro prizes into 'Realtor prizes,' 'local Charlotte friend prizes,' and 'people who live anywhere prizes.'  The more they donated, the more chances they had to win.  I think this helped raise a bit more towards the end.  I used Flippity.net to create a fun wheel to choose the winners randomly.
CORPORATE MATCHING
There's so much free money out there. If you Google 'corporate matches, ' it will give you a list of all the companies that do corporate matches.
And hopefully, that will get your brain thinking of who you know.  For example, the Bank of America, Wells Fargo, Ally Bank, and General Mills, to name a few.  Reach out to those friends and ask if they would consider donating to this cause. And if you go the extra step to donate, clarify what they need to do to ensure the match is the right charity, and it counts towards your event.
Normally big banks, law firms, and medical practices donate large sums of money.
SOCIAL MEDIA PROMOTIONAL FUNDRAISING
Sometimes when you blanket it on social media, people think they don't need you. And a simple direct message or text goes a long way.
At the end of the day, remember whatever it is you're doing, you're doing it to make a huge impact.  Don't be afraid to have fun with this on social media.  Hopefully, you're good at social media, and you can put it on Instagram or TikTok and make funny videos out of it.
Learn more about this article with our recent live video. Check out the link below:
Below are the candid moments I had during the big event.
Below is the full video of our winning performance and the judge's commentary :
Contact 
Danielle Edwards
 for information on Charlotte, NC, real estate.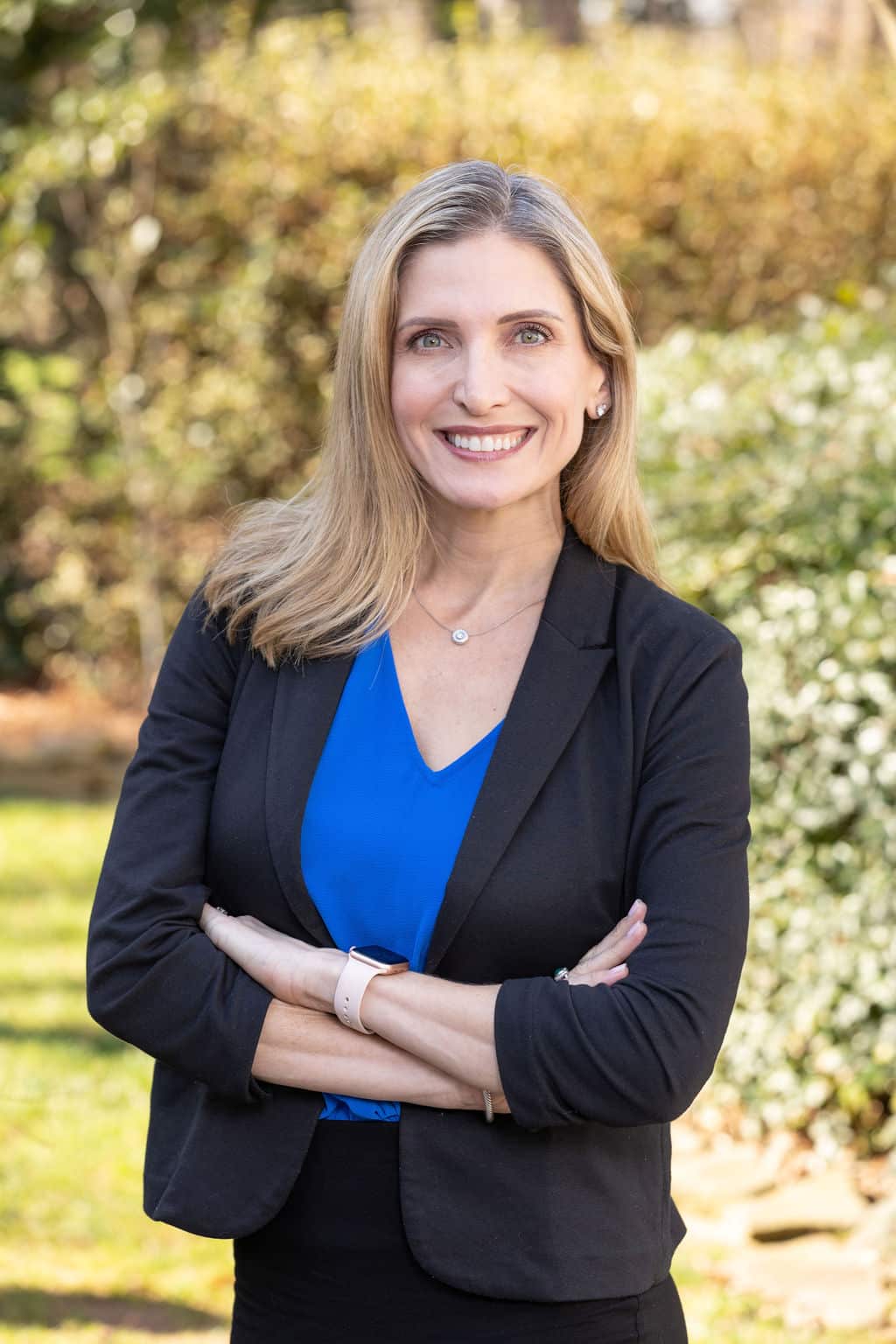 Charlotte Realtor® Danielle Edwards has been helping clients with their real estate needs since 2006.
2023 is the year of the Professional Realtor and getting back to a more normal real estate market.
---
Danielle Edwards
Charlotte Real Estate
Realtor, REMAX EXECUTIVE
Hefferon | Edwards Team