Charlotte Real Estate Market Forecast
2023-2022 home sales across the Charlotte region trend back to 2019 levels.
Article by Canopy Realtor Association shared by Danielle Edwards
CHARLOTTE, N.C. — At the end of 2022, existing-home sales across the 16-county Charlotte region declined 15.3 percent year-over-year, as 50,286 homes sold across the region last year. The region had approximately 9,300 more home sales in 2021 than in 2022, which included 12 consecutive months of year-over-year declines. 2022's sales were on par with sales at the end of 2019, which was a healthier year of sales, due to the overall pace of the market and amount of inventory. There were 3,0
65 closed sales during the month of December 2022 throughout the region, which is down 37.7 percent year-over-year. Sales included in this report, come from Canopy MLS and include single-family and condo-townhome data only, for the 16-county region.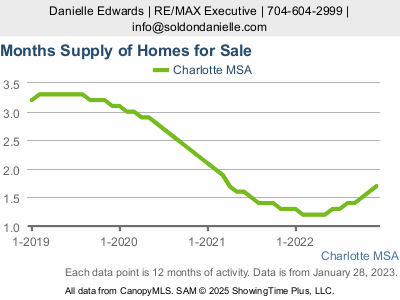 A gauge of buyer interest, pending contracts, fell throughout the year and totaled 47,477 houses under contract, a 20.5 percent decline from contract activity in 2021.. In part because the FED increased interest rates in response to inflationary pressure during 2022, buyers withdrew from the market. Contract activity reached a low point in December with 2,472 homes signing contracts, a decline of 32.4 percent from the previous year. Contract activity is typically a forward-looking indicator and a good predictor of future sales.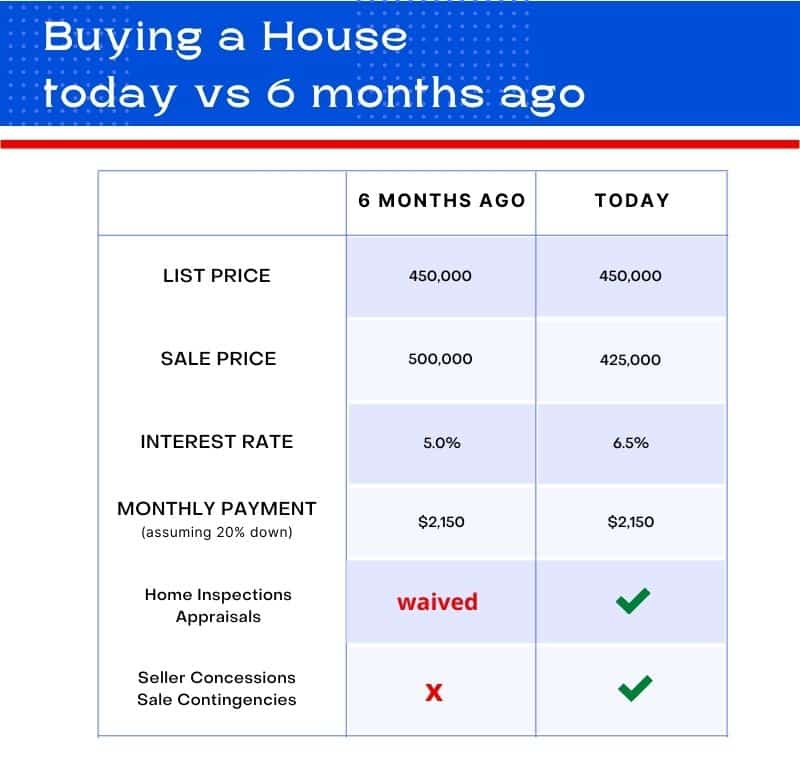 "Our region has experienced a tremendous amount of growth over the last year, even though year-over-year sales activity didn't reach the level of activity we saw during the height of the pandemic," said Tiffany Johannes, the 2023 president of Canopy Realtor® Association/Canopy MLS and Realtor®/Broker-In-Charge with RE/MAX Executive Ballantyne. We observed a return to a relatively healthier timing and pace of activity during most of last year and will continue to do so because 2021 was an outlier and an unhealthy market. If there's any good news, it's that the slower pace of sales should let inventory increase and possibly provide purchasers more options later this spring.
Year-end statistics reveal that with 57,973 residences posted during the year, new listing activity—which is a proxy for seller activity—was down 10% from 2021. During the month of December sellers listed 2,418 homes for sale, a 31.3 percent year-over-year decline. As buyers pulled back last year, seller activity also declined.
Inventory had 6,479 homes posted for sale as of report time on January 5, 2023. A 54 percent increase from the 4,206 homes for sale at the same time last year. Months of supply rose 100% to 1.6 months, indicating that the area is still in a seller's market. That is far from being balanced at six months of supply. Prices continued to rise year-over-year in December.
The average sales price was $444,600 for the entire year. It was up 14.9% from the previous year, and the median sales price was $379,890. The initial list price to sales price ratio rose to 99.7%. As a result of sellers continuing to be able to sell their houses for virtually their full asking price. Only for the month of December, the median sales price ($373,625) and average sales price ($436,920). Then both grew by 6.8 and 7.3 percent over the prior year. The percentage of original list price to sales price in December dropped further, to 94.7 percent.
The property market's slowing down is just one of many indicators that point to a recession this year. This is according to many experts, Johannes added. But buyers need to understand that a recession doesn't necessarily equate to home prices falling. Rates are anticipated to fall further. As inflation continues to reduce, even if the era of rates of 3% is probably over. Housing would be crucial to an economic recovery, according to our current outlook, and any recession would be minor.
Time on market across the region showed homes sold quickly throughout 2022, leaving buyers little time for negotiation.  List to close averaged 77 days last year compared to 73 days in 2021. The metric that accrues for "Active" and "Under-contract-show" statuses, showed homes averaged 22 days on market in 2022. It was compared to 19 days on market in 2021.  However, on December, List to Close increased from 75 days in 2021 to 99 days in 2022. And while days on market in December, increased from 20 days in 2021 to 41 days in 2022.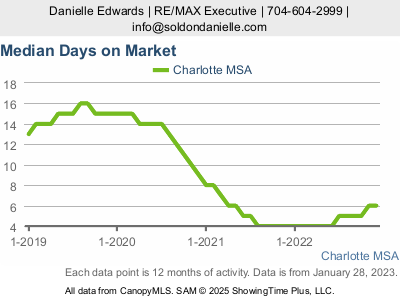 "Charlotte, NC and the Carolinas in general rank among the top 5 States where people are moving to. Not only that many experts rank Charlotte, NC as the market to watch in 2023. Charlotte Real Estate Agent, Danielle Edwards with RE/MAX EXECUTIVE has seen buyers that have been on the sidelines starting to resurface. It is really hard to tell what our market is like. This is because like most areas we experience a seasonal slow down this time of year.
2021 was an unhealthy market, and now it is about re-educating sellers on how to price their home properly, and education buyers on ways to still win.
When I meet with new buyers I don't just meet them at a house. I sit with them in my office and we go over their wants and needs, the different areas, and how to strategize a game plan that will have their house search here in Charlotte, NC be affective."
---
Canopy Realtor® Association owns and operates Canopy MLS, the region's primary source for accurate and timely property data in a multicounty service area including the Charlotte MSA, Asheville MSA and Catawba Valley region spanning across North Carolina and South Carolina to outside the Carolinas.
Canopy MLS provides the latest technology, tools and analytics that Realtors® utilize to support consumers with their residential real estate.
For more great real estate information on the Charlotte, NC reach out to Danielle Edwards.
If you liked this article be sure to follow us on our social media channels!