Uptown Charlotte's Four Wards
What to do, where to eat, and what you'll find
One of the unique things about uptown Charlotte (besides the fact that it's called 'Uptown') are its 4 distinct wards, which divide our city into quadrants. They meet at the intersection of Trade and Tryon. Each quadrant of the city is a little different from the next. Each has its own personality. Keep reading to learn about the history of Uptown Charlotte's four wards, and what gems you can find there. 
First Ward
The first of uptown Charlotte's four wards is the eastern-most quadrant. You'll find beautiful townhomes, craftsman style houses and tree-lined streets here, all with a breathtaking backdrop of our skyline. 
First Ward must-do's
7th street public market:
a bustling food hall full of delicious eats and local vendors. You can shop for Charlotte retail items like hats and bumper stickers at CLT find, or you can have a delicious crepe from Hazelnuts. It's a great place to visit with the family on a rainy Saturday, or a prime spot for a coffee meetup during the week. It sits right on the 7th street light rail stop.
First Ward Park:
First Ward Park sits just across the street from 7th Street Public Market. In the summer you'll find kids running through the fountains that sprout up from the ground while yogi's practice poses on the lawn. While your kids play, you can get some exercise in on the built-in equipment.
ImaginOn:
ImaginOn is an amazing children's library and theatre. The facility is a collaboration between the Charlotte Mecklenburg Library and Children's Threatre of Charlotte. It has a children's library, a teen-onky library, interactive exhibits, and multiple theatres.
The Mecklenburg County Library:
A library may not seem all that exciting, but the one coming soon to the First Ward of uptown Charlotte certainly is. The building plans speak for themselves. Check it out here!
Second Ward
The second of uptown Charlotte's four wards is the southernmost quadrant. The Second Ward is probably best known for the epicenter, a hub of bars and restaurants that comes to life late-night. You'll find a lot of modern luxury style apartments in the Second Ward. Perhaps the most exciting new addition to this ward is the Whole Foods on Stonewall. Speaking of Stonewall, the soon to be corridor of buildings that are currently under construction on this street is said to become the new "Trade and Tryon" which has always been considered the "heart of our city."
Second Ward must Do's
Nascar Hall of Fame:
A museum dedicated to Nascar. Whether or not you're a Nascar person, the history of the sport is fun to learn about. During the holidays, there's an ice rink here!
City Lights rooftop bar:
At the top of the Le Meridien hotel, you'll find some of the best skyline views at this swanky rooftop lounge.
Fahrenheit:
Another amazing skyline view with delicious bites to go along with it. You may just see a famous athlete dining here. After dinner, grab a drink on the patio next to one of the many gas fire pits. Don't forget to grab a photo while you're up there!
Third Ward:
The third of Charlotte's four wards might have the most potential for future growth, but that doesn't keep it from being busier than ever thanks to the BB&T ballpark. You'll find quaint bungalow style houses and contemporary condominiums in this northern quadrant of uptown Charlotte. It's also home to Johnson and Wales University.
Third Ward must do's
Visit Brevard Court and Latta Arcade:
A bite-size piece of history plopped down into a concrete cityscape. You'll find one-of-a-kind shops and restaurants in this little brick alleyway, dotted with edison lights throughout.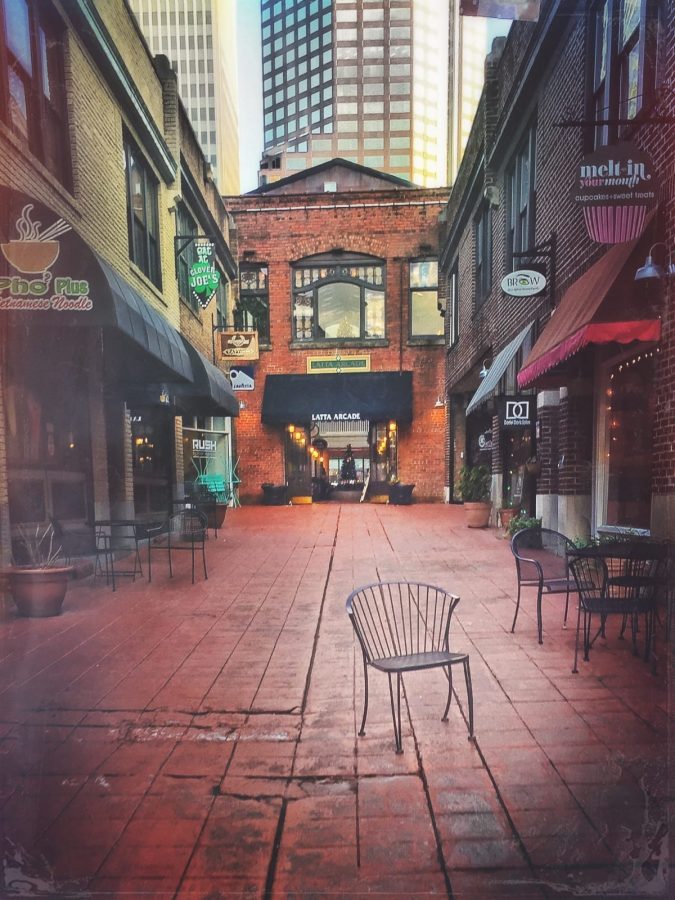 Romare Bearden Park:
Another fun uptown fountain the kids will love, only with better views. This fountain lights up colorfully at night and sometimes you may be lucky enough to stumble upon a musician putting on a show.
Knights Game at BB&T ballpark:
You'll love the liveliness as much as the views at Charlotte's baseball stadium. Fun for the whole family!
Panthers game at Bank of America Stadium:
Enough said. #keeppounding
Graham Street pub:
A new Third Ward restaurant with a rooftop patio. Perfect for pregaming for the big game, or for a bite afterward!
Fourth Ward
Charlotte's Fourth Ward, or westernmost quadrant, is perhaps the "coziest" of the wards. The streets are quiet and lined with trees, historic homes and charming brick buildings. Something about the Fourth Ward feels, well, unlike uptown Charlotte. If you're a jogger or just looking for some fresh air, this is the best place to get outside in uptown Charlotte.
Fourth Ward must do's:
Alexander Michael's:
Similar to Brevard Court, Alexander Michael's (also known among locals as Al Mikes) almost seems out of place, like a little piece of history plopped down into the city. You'll recognize it by the old school pickup truck parked out front.
Dandelion Market:
A go-to for small plates and brunch, you'll love the atmosphere in this restaurant. If you're not the partying type, just be weary of showing up too late, as the tables literally get suspended from the ceiling to make room for the dance floor after 10pm.
Discovery Place:
Another great option for kids! Discovery Place is a museum with science and technology centered exhibits, many of which are interactive.
There are endless amounts of places to eat and things to do in each of the four wards of Charlotte. Uptown Charlotte is ever changing, with dozens of new things opening up every week and new construction being delivered constantly! Venture into the heart and soul of our growing city and check out the personalities of each ward for yourself!
Want to know more about all that Charlotte has to offer? Ask your real estate expert, Danielle Edwards with Re/Max Executive Real Estate!
Danielle Edwards
DrivenDanielle@gmail.com
704.604.2999