A guide to all things South End Charlotte
The best breweries, restaurants and more
If you've lived in Charlotte for more than a month, chances are, you've heard South End is a pretty happening area within our bustling city. If you're a Charlotte native, you probably still can't believe how much the area has changed since it was a dead-zone with very little activity just over a decade ago. 
Although this Charlotte hot-spot is full of new and exciting activity, it actually boasts quite the history. For example, in the late 1800's, a railroad was developed through the heart of South End. You may have seen the remnants of it near Atherton Mill, along today's light rail tracks. To read more about the history of South End, click here. Keep reading to learn more about all the fun that South End has to offer.
South End Breweries 
Lenny Boy Brewing
Possibly the best thing about Lenny Boy Brewing is the ample amount of parking space. The brewery right on South Tryon, within a gated parking lot. Most weekends you'll find a food truck parked outside beside the patio area. In addition to a great beer selection, Lenny Boy also serves Kombucha on tap. 
Suffolk Punch
Suffolk Punch is nestled right along the lightrail at New Bern station. The first thing you'll notice when you step foot into this brewery is the heaps of greenery hanging from the ceiling. They've got a brunch that's to die for and an outdoor seating area with an extra bar outside. During the winter, they cover the outdoor seating area to keep it heated. If you're looking for a trendy spot to show off to an out-of-towner, this is it. 
Triple C
Triple C brewery is just up the street from Suffolk Punch. One of Charlotte's OG breweries, you won't find many instagram photo-ops, but you will find delicious beer and a laid back crowd. If you ever need an awesome event space, check out their Barrel Room. 
Sycamore Brewing
Sycamore seems to be the spot that all the youngest professionals gravitate to. That being said, it's always full of adorable dogs. During the summers, Sycamore Brewing hosts Food Truck Friday, so you can find dozens of Charlotte's best local food trucks in their back lot, right along the light rail. Parking isn't bad either. You can park along the road or in their designated parking lot. This place is ALWAYS crowded, and for good reason, so get there early if you want to avoid the crowd. 
Wooden Robot
If there's one thing Wooden Robot is best known for, it's the Good Morning Vietnam beer. Somehow this beer is light and rich at the same time. It's sweet but refreshing and– just try it for yourself. Actually, Wooden Robot's entire menu is full of delicious beers you'll love. The inside can get a little cramped, but they have a great outdoor patio space in the heart of South End as well. 
The Unknown
Another OG Charlotte brewery, the Unknown is tucked away in the Gold District (north-western corner of the South End area.) The Unknown doesn't seem to get quite as much buzz as the newer South End breweries, making a great getaway spot from the crowds of South End. You'll love their beers and the fun atmosphere 
South End Restaurants
Link & Pin
Lunch, dinner, and weekend brunch. Great place for small plates to share with a group. Brunch options includes chicken and waffles and shimp and grits. Super trendy and instagrammable. 
The Waterman
Newer spot in Sedgefield Harris Teeter plaza. Has an awesome rooftop patio and $1 oyster happy hour. You'll love the cocktails and appetizer options. 
The Dunavant
$20 steaks and all you can eat fries towards Sycamore brewing. In a renovated warehouse space with tons of character. 
Luna's Living Kitchen
In the heart of the revamped Atherton Mill shopping center, you can find delicious plant-based options at Luna's along with lots of good smoothie options. A great place to stop in while shopping at Atherton's endless array of newly opened shops. Tall windows, exposed brick, natural light, and eclectic furniture. You'll love this atmosphere!
Mac's Speed Shop
A South End staple. Great place to get some pulled pork and listen to live music. Open air bar area in the summertime. A little grungier and different from the trendy millennial spots popular to this area.
Callie's Hot Little Biscuit
Another Charleston restaurant has made its way to Charlotte! This grab-n-go biscuit counter is on Tremont and offers a range of sweet and salty biscuit meals. 
Bang Bang Burger
Might be the best burger in Charlotte. On Tremont next to Zeppelin's. 
Common Market
Everything from breakfast sandwhiches to candy bars. Stop at Common Market for a midday snack, or beer, or meal. This eclectic market is another South End staple, and the new location on Tremont is bigger and better than ever. 
O-Ku
Charleston concept in Charlotte. Delicious sushi in a fun atmosphere. Great place for a girls night or a date. 
Seoul Food  Meat Company
Unique korean dishes and asian craft beers. Book a private karaoke bar or play one of the many games in the outside area. 

Let's Meat
From the owners of Seoul Food, this all you can eat asian style BBQ joint let's you cook your own meat on the tables' built in burners
Root's Cafe
Such a cozy little restaurant with delicious and pretty healthy food options! They recently added a patio that makes this the perfect springtime destination for a tasty lunch or brunch. If you're looking for a quaint and intimate event space, this is a great option!
Hawker's
Asian street fare style menu with awesome drink options. Fun atmosphere and even better location! Head to Jenni's afterward for ice cream!
Superica
Delicious tex mex, perfect for lunch, dinner and weekend brunch. Huge restaurant with delicious margaritas. The lunch specials are awesome. 
Barcelona Wine Bar
Such a fun spot with an amazing atmosphere right beside Superica. You'll love the warm bread they serve, and the plethora of spanish tapas options on the menu. 
Price's Chicken Coop
A Charlotte staple, Price's is arguably the most delicious fried chicken in the city. You won't find any instagram-worthy photo ops at this gem, but the hole-in-the-wall nature of this restaurant makes it as unique as it is!
Flower Child
Delicious health food options with an extremely charming atmosphere. You order-at-the-counter but it doesn't feel fast casual. You'll love the patio in the summertime and the delicious drink options.
South End cafes and desserts
Nekter Juice Bar – delicious fresh squeezed juice and smoothie options
Stable Hand Coffee – craft coffee bar on remount (previously Hex)
Not Just Coffee – Charlotte's trendiest coffee spot, natural light, brick, lots of greenery

Golden Cow – Delicious local ice cream, new flavors all the time
Jenni's Ice Cream – Another delicious ice cream choice, dairy free options, get yourself a cone and go take a photo in front of South End's heart mural wall
Clean Juice – another fresh juice and smoothie option for all the Charlotte health fanatics


Central Coffee – Local coffee shop, great place to sit and work for an afternoon
South End Fitness Studios
Project Lean Nation – get a free fitness evaluation and meal plan
Inner Peaks – indoor rock climbing, fun date idea
Barry's Bootcamp – new famous bootcamp style HIIT training
Tread Happy – HIIT training similar to Orange Theory but mostly tread focused
Orange Theory – HIIT training that focuses on treadmill running, rowing, plyometrics and body weight training –
Sweat Method -tempo hot yoga
Fit Atelier – retail shop that hosts pop-up fitness classes in the Design Center
When it comes to navigating South End, you'll find something fun to do or delicious to eat with every corner you turn. It's home to the majority of breweries in Charlotte, and new restaurants seem to be opening up each week. While parking seems to be more of an issue as this area grows, it's also become more pedestrian-friendly as more millennials and professionals move to the area. So come — eat, drink, and be happy in South End! Interested in homes that for sale near SouthPark and other areas of Charlotte? Check out some of our nearby listings!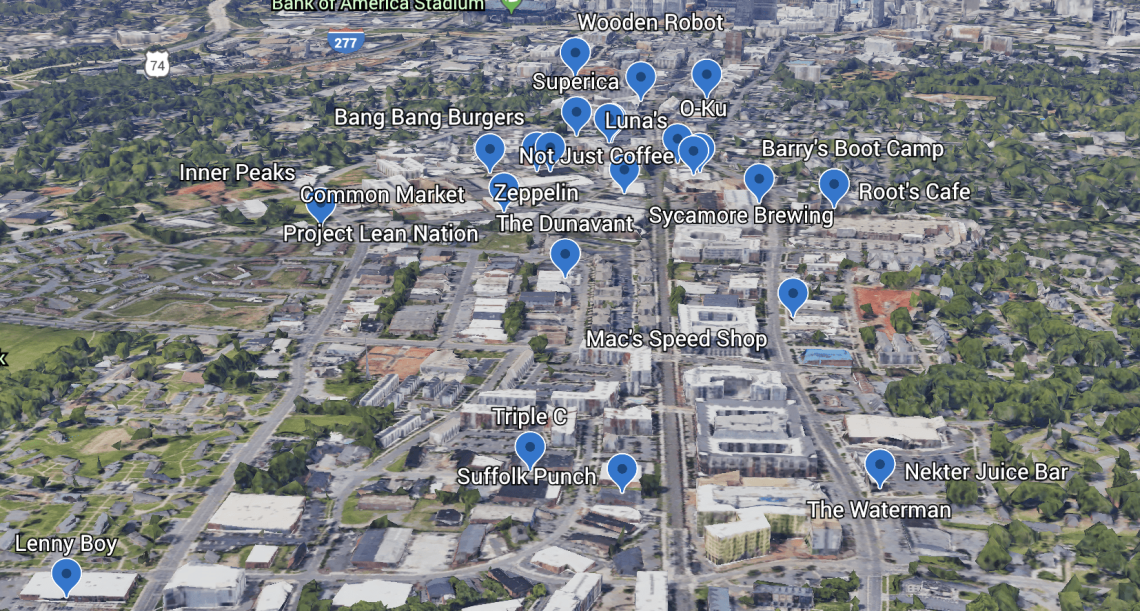 Contact Danielle Edwards for more information about real estate in Charlotte, NC.