How to sell your home in Charlotte
A guide to getting your home sold fast
So, you want to sell your Charlotte home. There are so many different routes to take when preparing for the home-selling process, as a result, it's easy to get overwhelmed. Do you sell your home all by yourself? Do you hire a discount firm to help? Or do you go with a full-time real estate expert and professional?
I've been a Realtor for 14 years, and I have certainly learned the pros and cons of all of the above options, as well as the definite do's and don'ts. In fact, I have a recent seller experience that I would like to share, as I think it would be useful if you plan to sell your Charlotte home in the near future.
How to sell your home in Charlotte
Video by Danielle Edwards
 Real seller experience
I recently had clients with a home they wanted to list in Wilshire, a community in South Charlotte. Homes in Wilshire typically stay on the market for an average of 23 days, which is relatively quick; however, some sell quicker, and others can lag for months. There's a simple reason as to why some of these homes take so much longer to sell.
House hunting today is like watching HGTV. You know the episode: a couple walks through a beautifully but minimally decorated home with just the right amount of perfectly placed furniture. There's just enough furniture and decor to make the space attractive, but it's minimal enough that you can image your own furniture and decor in the space. I'm not saying your home has to be perfectly renovated and decorated in order to sell your home, but data shows that move-in ready homes sell in days, and most of the time, over listing price. When sellers put in minimal effort and sell their home as-is, their homes tend to sit on the market for longer.
My clients wanted to sell their home at 7219 Fortrose Lane. Great home, and great sub $400,000 price point; however, a young toddler lived in the home and therefore, it didn't show itself as move-in ready. When I met with my sellers, I went over my game plan and thankfully they trusted me. The result? it worked! Our plan-of-action was as follows:
1. Technicals: A 25 year old home will likely have some issues. I always recommend getting the entire HVAC system checked before listing. My sellers in Wilshire needed a new furnace. It was leaking carbon dioxide into the flue. I advised them that they were better off spending the $2,900 to replace it, and then use it as a marketing tool by highlighting the new feature. We were also able to build the $2,900 into the asking price. Had we not replaced the furnace, we ran the risk of having to deal with the issue while under contract, slowing down the closing process, and having to fix the issue for the buyers.
2. Paint: Several of the rooms at 7219 Fortrose Lane were painted an outdated yellow color. We strategically painted these rooms to give them a fresh look. The sellers decided to put in some "elbow grease" and painted these rooms themselves, saving hundreds. In total, painting the home costed about $600.
3. Storage: I recommended that my sellers put everything that they didn't need during their selling process into Smart Boxes. By minimizing the amount of clutter, they were able to make the home feel much bigger and less cramped. Not to mention, decluttering beforehand makes moving 10 times easier and more efficient once your house is sold. For my sellers, Smart Boxes costed about $350.
4. Light Fixtures: Light fixtures make a huge difference in giving your home an easy face lift. We replaced the kitchen fixture for $99 and and spray painted an old brass fixture for the dining room. We also got a new lock and handle for the front door for $50.
5. Pressure wash: My sellers did this themselves. They cleaned the driveway and sidewalk area, which is the first thing that potential buyers see when they pull up to your home.
6. Staging: Not all homes need this. There are 3 different types of staging:
6a.) Vacant staging: The home is empty, so stagers bring in furniture to fill the entire home
6b.)Partial staging: Stagers use some of the seller's furniture, but bring in more to supplement
6c.) Virtual staging: Home stays vacant and computer generated photos are used to create online appeal
We decided to stage the main floor and master bathroom. I staged the other bedroom with items in my own collection. I told my clients the $1700 investment would come back to them, and guess what? It did! This home sold on DAY ONE. We used Stage It Charlotte.
Before and after staging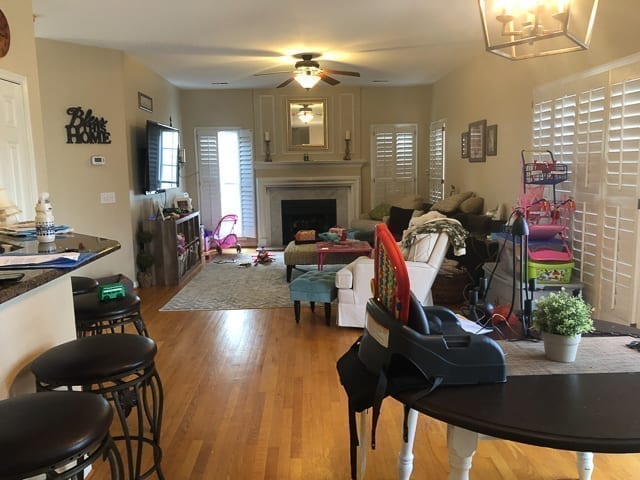 7. Clean: This goes without saying. It's absolutely essential to clean your home before putting it on the market. We had this home cleaned by a professional. House cleaning costs varies, but you can expect to pay close to $300 an hour.
8. Floors: The hardwoods in the Wilshire home were showing their mature 25 year old age. My sellers spent $2,600 to refinish the floors and it made a BIG impact. At this point, 40% of their items were in storage pods and the rest was in the garage. The sellers went on a fun 4-day stay at a friend's house and bit the bullet to get this done. Over the years, I've had lots of sellers promise to refinish floors at closing, but for buyers, seeing is believing. Refinishing the floors was a game changer for a first impression.
9. Flowers: My sellers planed bright pansies on the exterior of the home and I bought some pretty flowers to place in the kitchen. It doesn't seem like much, but it's tiny details like this that make a home seem more charming and inviting.
When it comes to being market ready, each home is unique in what it needs. I have a proven record of preparing homes to sell for top dollar and fast. Let's be honest, nobody likes keeping a house clean 24/7.
Each home is unique it what it needs to be market ready. I have a proven record of preparing my sellers homes that gets them top dollar for their homes. NO ONE I can think of likes keeping their home clean 24/7. Especially, if you have pets and children. The hard work you put into your home UPFRONT will mean less hassle and a stronger buyer pool to choose from when you receive an offer(s).
If you are thinking of selling your home and would like a complimentary in-home evaluation contact listing agent Danielle Edwards.
Danielle Edwards
704-604-2999
drivendanielle@gmail.com